The Lure of the QE 2
I've just returned from a 12 day cruise on the cruise liner Queen Elizabeth 2 (also known just as QE 2) of Cunard Lines, embarking in Hong Kong, and cruising to Vung Tau (Vietnam), Laem Chabang (Thailand), Singapore, and disembarking at Phuket, Thailand, March 5th - 17th, 2001. This was my third time on the Queen, all some segment of her World Cruise, and all in the Australasian region.
But this time, I finally began to understand the magnetism and lure of the QE 2 that keeps pulling me and others back to her each year. Many other cruise reviews about the QE 2 have comments of a negative nature, because of small cabins, lousy food, indifferent restaurant service, worn carpets, so-so entertainment, etc. But there are a band of devoted QE 2 cruisers who return to that ship year after year. On this cruise, I finally understood why, and I will try to explain the reasons here.
Pre-embarkation - Anticipation builds as days, then hours, approach for "returning" to the QE 2. What to bring, and what to pack? Biggest problem for me, a male, is how many pairs of shoes to bring. Finally, I decide on three pairs - one casual being worn, and two to pack, a formal/dancing shoe, and a rubber soled casual shoe which can also be used for deck sports. Besides the normal items of clothing, some unusual items that I bring include: a can of air freshener spray for the cabin and bathroom (especially useful if you are sharing a room with your spouse or another partner), baking soda for dancing purposes to make the soles of dancing shoes glide more smoothly, camera with sufficient film, digital video camera/recorder, and extra batteries.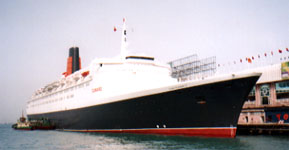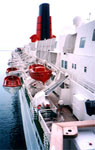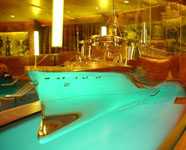 At dock in Hong Kong View along deck, and silver model of QE 2 in midships lobby
Embarkation - a car can drive practically to boarding ramp at Hong Kong's cruise terminal to unload luggage, walk into check-in room, where there are about 10 check-in counters, and few people checking-in. Have pictures taken for passenger card, passports checked and taken by purser's staff, credit card imprint made, and that's it - all done in 10 minutes. Walk few steps to boarding ramp, where we run into Shetty, our waiter in Mauretania Restaurant (one of four main restaurants on board) from last year. He leads us up the ramp into the main midship lobby, where we run into Warren Smith, the same dance instructor as from the prior two years. Warren is a legitimate dance champion from South Africa and has competed in many events, including the Blackpool championships, where he came in fourth in the finals of the Latin dance category. Entire check-in routine takes no more than 15 minutes by the time we are in our cabin, and the luggage is already in the cabin by the time we arrive. That's speed of luggage delivery.
Cunard upgraded our room from an M3 inside cabin to an M1 cabin, with porthole. M1 rooms are probably slightly bigger, but since this is our third time on Queen, we bring enough but not too much, so everything fits into the two sets of drawers, two closets, etc. Room may be small compared to rooms of newer, larger ships, but the room is perfectly adequate for us, my partner and me. Bathroom has a shower closet and the toilet, and the wash basin is outside in the cabin itself. At first, this seems like a good idea, but depending upon the sleeping habits of the room occupants, placing the wash basin in the cabin itself is not practical. It's difficult to use the wash basin in the dark for brushing teeth, etc., if the other occupant is still asleep and you don't wish to wake him/her.
The QE 2 has a two day stopover in Hong Kong, and we board the day before departure, so Cunard has graciously allowed us to invite four friends on board for dinner and to sample the dancing on the day of our embarkation. We decide to eat the buffet in the Lido restaurant, rather than have dinner in the main restaurants. And, we were never even questioned as to who was dining, no charge was made for our guests eating dinner there, or later, at the midnight buffet, also in the Lido.
The Dancing - At the evening dancing in the Queen's Room, we see many of the ladies who make this World Cruise yearly. There's Lillian, who must be into her 25th or so World Cruise, Barbara - 18th WC, Dorothy - 6th, Doris, Doreen, and several others who we recognize but don't know. These ladies are real stalwarts; they are there dancing every night, usually both dance sessions, and in a different outfit each night. (The entire World Cruise if 104 days long, so that's a lot of clothing to bring. We have heard that some ladies book two cabins - one to sleep in, and the other to keep the clothes.) The music, as usual, is superb - proper strict tempo ballroom dance music, good mix of latin and ballroom, and each piece not too long. Wyn Davis and his 10 piece orchestra is back from last year, and the showband is Phil Clark and his 8 piece band. Later in the Yacht Club, the calypso band is Onlyne, not as good as last year's Opus, but OK.
The complimentary group dance classes are well attended, 50 - 60 people in each class, and Warren and his wife in 5 - 6 sessions taught quickstep, samba, mambo, line, and tango. There were about 10 Gentlemen Hosts on this cruise, and they all work very hard, having to attend all the group dance class, the departure dance party in HK, and both evening dance sessions in the Queen's Room. Unfortunately, due to larger than usual number of passengers on this cruise (1400 out of capacity of 1700), there were no afternoon tea dances in the Queen's Room. A Gentleman Host is a special class of male passenger whose job is to dance with unaccompanied ladies. They are not strictly employees of the ship, but have duties to dance, accompany unaccompanied ladies on tours, if the ladies so wish, and have passenger status as to food, events, etc. In return for their duties, they basically travel at very nominal cost.
Our private dance lesson with Warren is as usual very good, and his price very reasonable for a dance teacher of his caliber. We learned the paso doble dance, which is the dance of the bullfighter and his cape.


| | |
| --- | --- |
| Warren / Daniela Smith, dance champions | Novelist |
Deck Tennis - the first day at sea, I venture out to the paddle tennis court, and who do I see there, but the regulars from last year. There's Dudley, Malcolm, Jim, Stan, Barry, and a few others. Why do they keep coming back? Must be the paddle tennis camaraderie, and their enjoyment of shuffleboard, quoits, and other deck sports and games, plus the daily tournaments that the sports organizers, Mickey and Lee organize. Paddle tennis is patterned after the regular game of tennis, but with a small wooden court and net, paddles like large ping pong rackets, and a ball that looks like a tennis ball, but is not as bouncy or lively.
Food - Each day I have breakfast in the Lido Restaurant, which is for casual dining, and then lunch and dinner are taken in the Mauretania Restaurant. This year, the food in the Mauretania was far better than last year - consistent quality, fresh, tasty, and well presented. All this cruise, I overheard not one negative comment from other passengers about the food. In prior years, there were a lot of negative comments.
One of our waiters, Pyotr from Gdynia, Poland, made some interesting comments about the QE 2. His wife works in the Princess Grill, a more exclusive restaurant than the Mauretania. He has worked also on Renaissance Cruise ships. He said, "Working on the QE 2 is different than working on other ships. Other ships may be like a BMW, Lexus, or even a Mercedes, but this ship is the Rolls Royce. If a passenger wants anything, even if not on the menu, and we have it in the kitchen, we can get it for them. Other ships, maybe only what's on the menu. My wife and I are in the same cabin. Other ships, they don't care, they just assign you to share a cabin with some other staff, and you have to make your own arrangement to change rooms, so your wife can be in the same cabin with you."
Religious Service - I attended two Roman Catholic masses on board. One had a baptism service for a female passenger. The highlight of that baptism service was the singing of "Ave Maria" by Gillian Humphreys, who is the leader and head soprano of the singing/dancing troupe on board. I guess she was especially asked to attend and sing just for this service, which was in the movie theatre, where the acoustics is superb. It was a moving experience, and one I think the passenger who was baptised would not likely forget. A special event like this makes the QE 2 unique.


| | |
| --- | --- |
| Gillian Humphreys, soprano, 2nd from left | Afternoon tea in the Queen's Room, QE 2 |
Other - I only attended two lectures, both by Judith McNaught, who writes love/romance fiction novels, but whose novels have sold over 20 million copies. She spoke on what's involved in being an author, how to deal with literary agents, publishing houses, and the economics of the author business.
One negative was that this was the first time for the QE 2 to visit Vietnam, and each passenger was charged US$65 for a Vietnam visa, whether we wanted to go ashore or not. Since the QE 2 was not berthed at the dock, but anchored out in the bay, a tender service had been planned to ferry passengers from the ship to shore, but the wind was too strong, and the tender service was cancelled after a few passengers were offloaded. This visa charge caused a lot of grumbling. I rarely join the tours organized by the ship, so cannot comment on them. The bus service in Singapore was well run, and we did not go into the town of Pattaya, which is the town nearest Laem Chabang.
Dis-embarkation - Finally, the morning of disembarkation day arrives, and sitting in the Lido restaurant having the last breakfast, there is a great sense of sadness that this cruise and vacation is coming to an end. One really doesn't want to leave this wonderful ship. I mean, where should I go for afternoon tea if not to the Queen's Room, who's going to hand me the menu when I go for lunch or dinner, and who's going to go get my vanilla ice cream with mixed berries if I happen to want that for dessert?
There's a phrase in Cantonese Chinese which phonetically sounds like "Nm sey duk jeow". There's no literal translation into English, but it's the feeling of "I know I have to leave, but I really don't want to - I wish I could stay."
And that is the feeling which I had on disembarking, and the feeling which I will have until the lure of the Queen draws me back next year. I've become part of her family, or maybe it's the other way around?

Return to [ Main Page ]