From the World of Sports


It's a partial sellout. - Skip Caray, Atlanta Braves baseball team announcer

It is not how good you are when you play good. It is how good you are when you play bad. And we played pretty good, even though we played bad. Imagine if we had played good. - Litterial Green, a player on the University of Georgia basketball team, after his team beat the Georgia Technical Institute team 66-65

Winning isn't everything; it is the only thing. - Vince Lombardi, coach of Green Bay Packers football team

A typical fan is a guy who sits on the 40-yard line, criticizes the coaches and the players and has all the answers. Then he leaves the stadium and can't find his car. - Dennis Erickson, University of Miami football coach

After that eulogy, the least I could do is drop dead. - Joe Paterno, Penn St football coach, after a glowing introduction from Dick Vermeil, a former National Football League coach

I am the best promoter in the world. And I say that humbly. - Don King, boxing promoter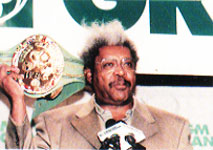 Don King, the boxing promoter. . . . . Andrew Golota, on the mat...
He's a guy who gets up at six o'clock in the morning, regardless of what time it is. - Lou Duva, trainer of heavyweight boxer Andrew Golota, on his training routine.
Pair off in groups of threes. Line up alphabetically by height. Run a little more than full speed out there. When I was indicted into Florida's Sports Hall of Fame, they gave me a standing observation. I'm the football coach around here, and don't you remember it. - Bill Peterson, football coach of Florida State University and later the Houston Oilers. (Note: the word indicted should have been inducted instead. The word indicted means to be charged with a crime.)
Do I think it is going to rain? What do you think I am, a geologist? - Bill Peterson (Note: the word should be meterologist, a weather expert)
Ninety percent I will spend on good times, women and Irish whiskey. The other 10 percent I will probably waste. - Tug McGraw, a baseball pitcher with the Philadelphia Phillies team, on his new $75,000 per year salary, in April 1975
Ninety percent of baseball is mental; the other half is physical. When you come to a crossroads, take it. The game isn't over until it is over. What time is it? You mean, right now? - Yogi Berra, baseball catcher and coach with New York Yankees team
Have I seen JFK? You referring to the movie or the airport? - Roger McDowell, Los Angeles Dodgers baseball player
He'll be tougher than a 50 cent steak. - Lee Trevino, pro golfer, on Ray Floyd's debut on the Senior Pro Golf Tour

Foot in the Mouth Comments by Sports Commentators
This is Gregoriava from Bulgaria....I saw her snatch this morning and it was amazing. - Pat Glenn, commentator at weightlifting event
This is really a lovely horse; I once rode her mother. - Ted Walsh, horse race commentator
He's pulling him off! The Spanish manager is pulling his captain off! - George Hamilton on Spain manager Luis Suarez's substitution of Butragueno during their soccer world cup qualifier with Ireland
The lead car is absolutely unique, except for the one right behind it which is identical. - Murray Walker
Sure there have been injuries and deaths in boxing - but none of them serious. - Alan Minter
The racecourse is as level as a billiard ball. - John Francombe
If history repeats itself, I should think we can expect the same thing again. - Terry Venables
I would not say he is the best left winger in the Premiership, but there are none better. He dribbles a lot and the opposition don't like it - you can see it all over their faces. Well, either side could win it, or it could be a draw. - Ron Atkinson
Ah, isn't that nice, the wife of the Cambridge president is kissing the cox of the Oxford crew. - Harry Carpenter, at BBC TV Boat Race 1977
Morcelli has the four fastest 1500-metre times ever. And all those times are at 1500 metres. - David Coleman
What will you do when you leave football, Jack, will you stay in football? - Stuart Hall, Radio 5 Live
There goes Juantorena down the back straight, opening his legs and showing his class. - Davis Coleman at the Montreal Olympics
One of the reasons Arnie (Arnold Palmer) is playing so well is that before each tee shot, his wife takes out his balls and kisses them.....Oh my God, what have I just said? - Sandi, USTV commentator
Strangely, in slow motion replay, the ball seemed to hang in the air for even longer. - David Acfield
Julian Dicks is everywhere. It is like they have got eleven Dicks on the field. - Metro Radio commentator
I owe a lot to my parents, especially my mother and father. - Greg Norman, pro golfer from Australia


(Note: Nearly all of these quotations were supplied by my friend Mr. D. Bergt of Texas, USA, pictured below. Many of the quotations in the second section are what would be called a "double entendre", a term which can be interpreted with two meanings, especially when one meaning is risque, or sexual in nature.)
--

Return to [ Main Page ]